Styled: Embroidered Pink Platform Espadrilles, Made in Spain
Espadrilles are, hands-down a dominant shoe trend for Summer 2016. Many designers, high & low are crafting these lovely jute rope-soled shoes, but not all of them are authentic espadrilles made in Spain – their actual country of origin (even if they were once known solely as peasant shoes!).
But I found a pair of espadrilles (and matching purse!) that are not only hand crafted in the North of Spain, but made out of original Torero capes. And you can't get any more authentic than that!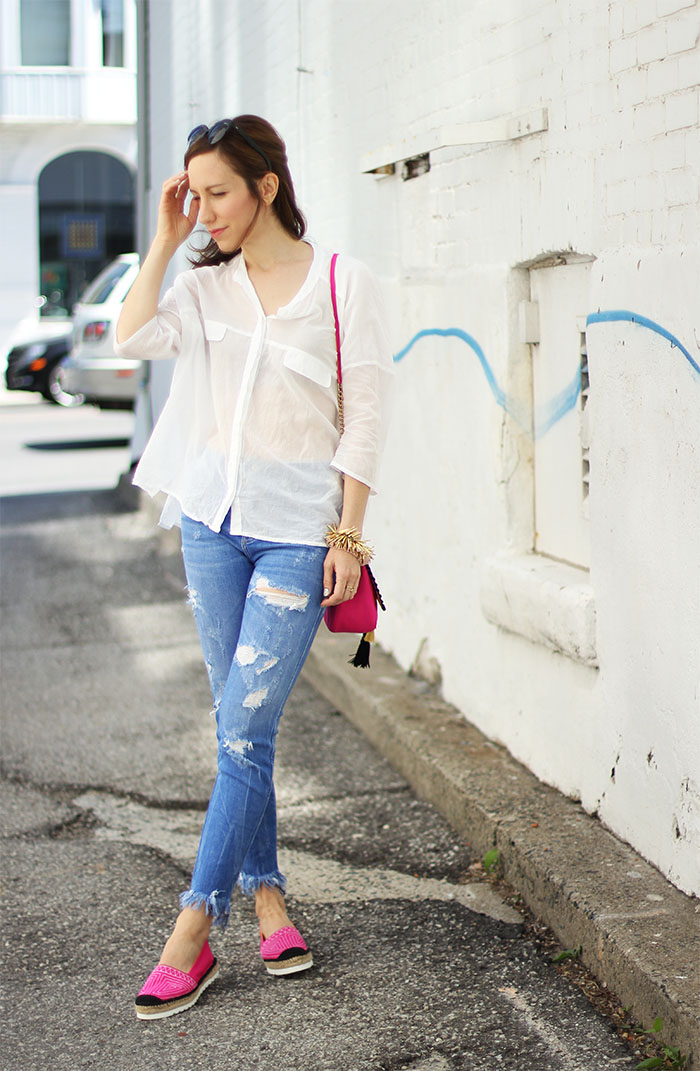 Platform Espadrilles & Purse: ℅ Atelier Costà. Ripped Jeans: Zara (Spring 2016). Mani: "Jewelry Box" ℅ Jamberry Nail Wraps. Bracelet: J.Crew. Rings: Vintage & Shop for Jayu.
---
Shop Similar Items:
Turn off your ad blocker to view content
---
You read right: the hand sewn & embroidered pink platform espadrilles from Atelier Costà are made out of a real bullfighter's cape: a beautiful, sturdy fabric that is only made by one person. Yes, there is only oneperson in all of Spain who still produces the Torero's capes!
The savvy female designer behind the brand is Spanish born & French design trained Valérie de Costa. She is committed to creating traditional espadrilles with artisanal Spanish craftsmanship, combining classic styles with new materials & contemporary designs.
But what makes these hot pink Costà platform espadrilles & handbag so exclusive is their trademark use of bullfighter's capes. You won't find anyone else making them. So if you're looking for espadrilles shoes that are almost literally "strong as bull", you've got to grab these from Costà!